Parents are invited to the 1st CMS Lunch & Learn! Bring your own lunch and join us: Sept 28th CMS Library 12- 1 pm We will host a variety of parent lunch and learns throughout the year, our first topic in September will be the PowerSchool parent portal and How to become an Observer in Canvas classrooms.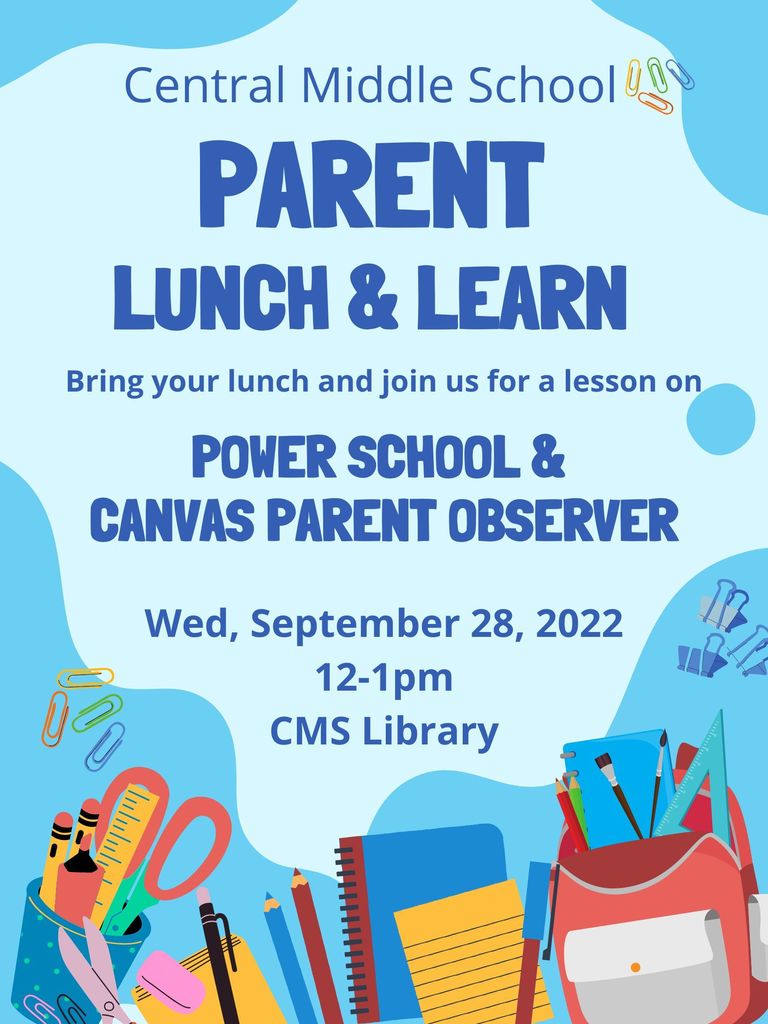 YOUR SCHOOL PHOTOS ARE READY! Good news! JostensPIX was recently at your school to photograph picture day, and your student's photos are now available for viewing and ordering! VIEW AND ORDER PHOTOS HERE
https://shop.jostenspix.com
PHOTOS NOT APPEARING IN YOUR GALLERY? FIND YOUR STUDENT USING EVENT CODE: FE227522 DID YOU KNOW? - You can personalize your photos with a variety of backgrounds and text - Photos are shipped directly to your home - High-res digital downloads are available - If you have more than one child, you can order together and pay once

ONE week left to register for the 2022 Bruin Color Guard Spinner Clinic! PK through 8th grade students will learn about color guard, learn a routine, and perform at Varsity halftime on the 23rd! $35 to register. More information and registration at bruinbrigade.org!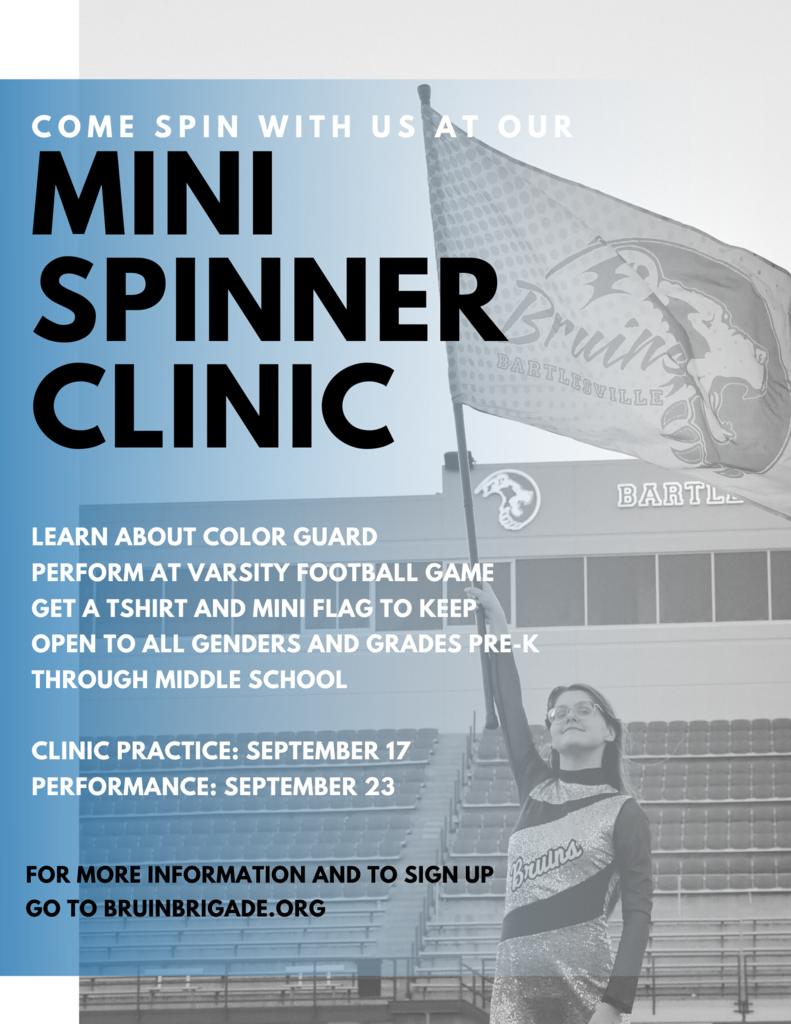 Bruin Middle School Softball team wins the Oklahoma Union Tournament!

CMS Events 9/12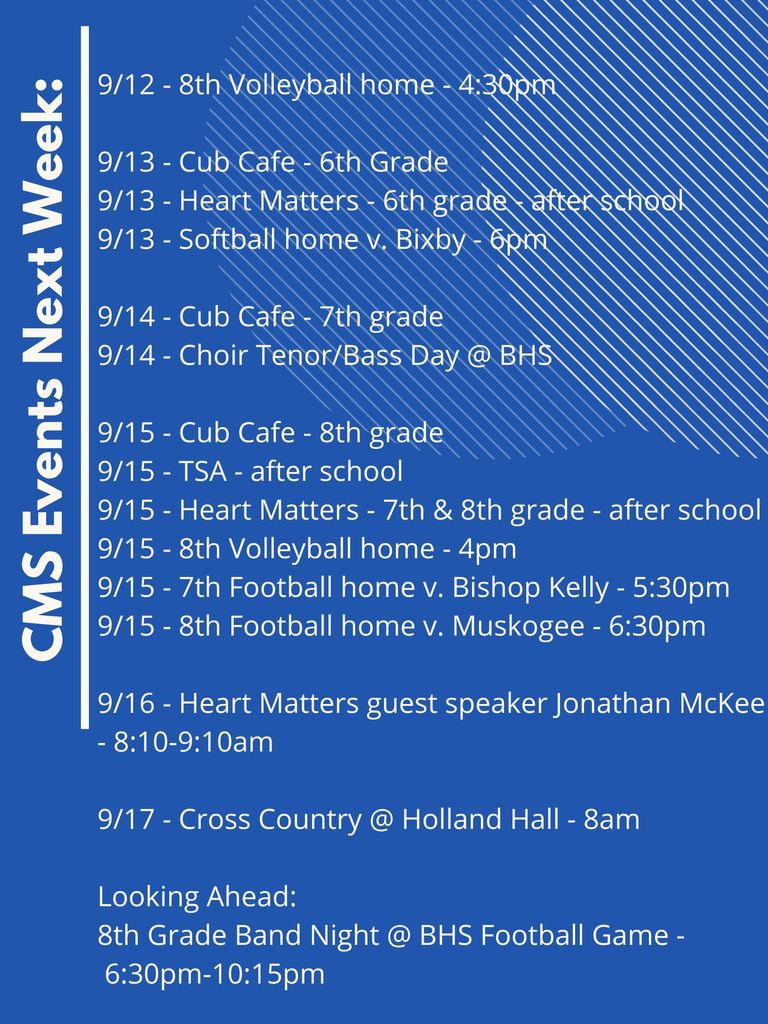 CMS September Calendar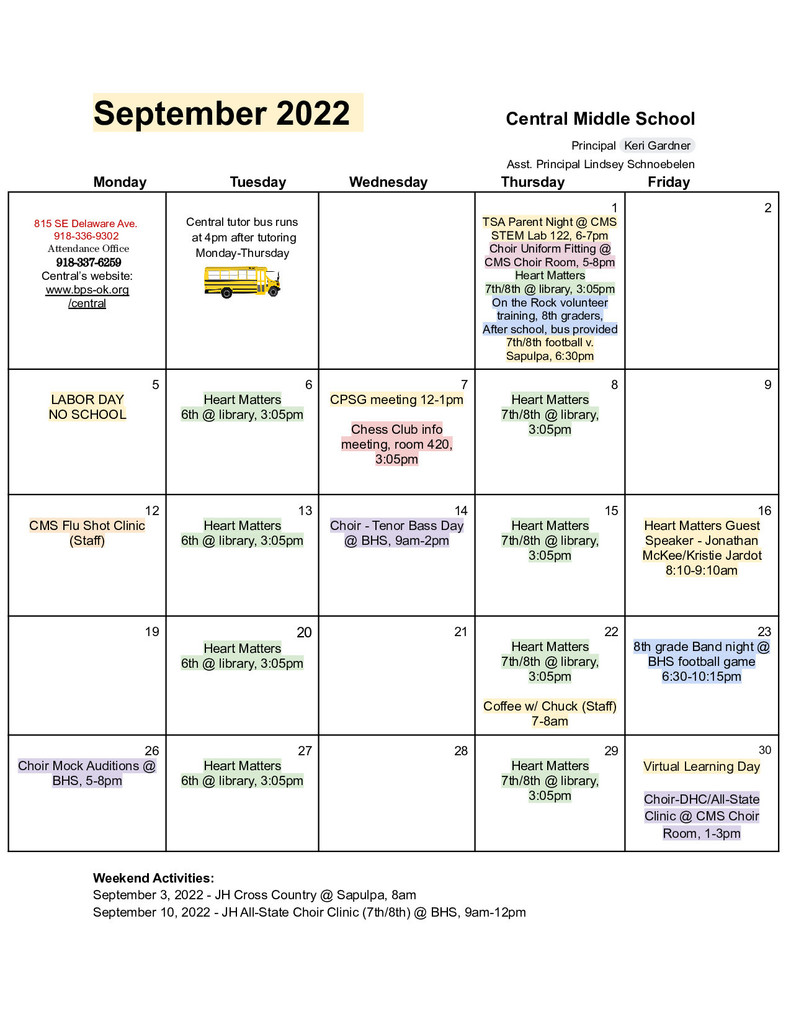 CMS August Calendar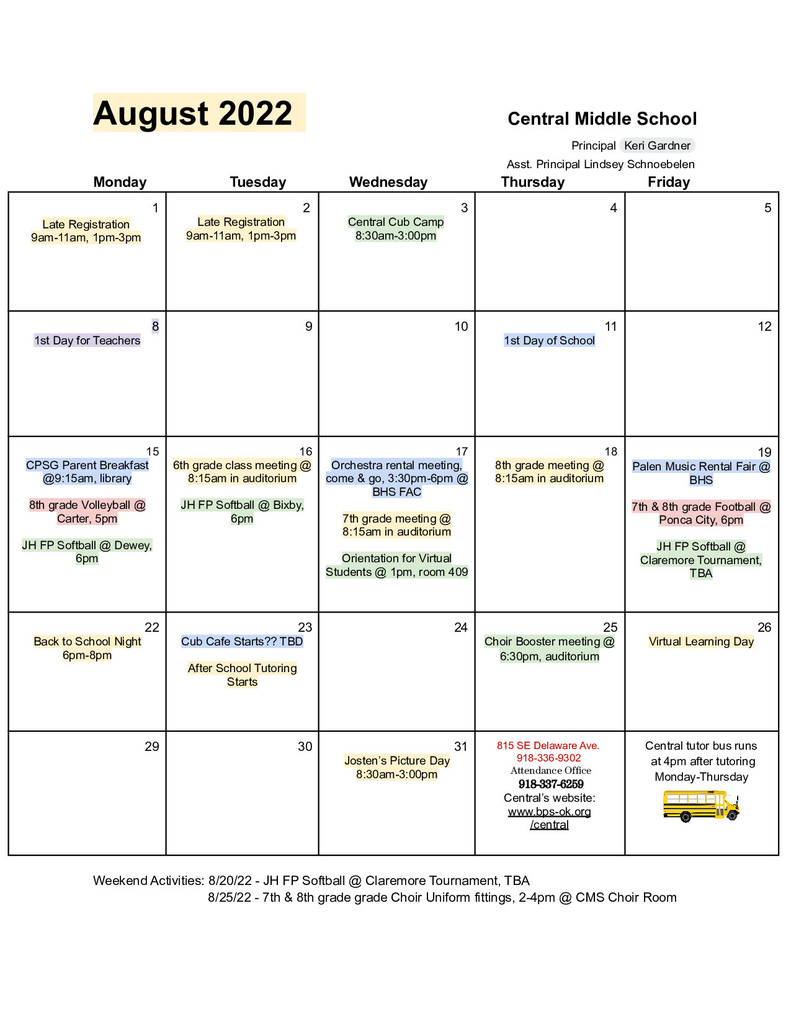 Attention Central Parents - Safety Announcement: Throughout the school year we will be practicing a variety of safety procedures and scenarios with our students. We have in-depth Emergency Management processes that cover many potential situations. One of our established processes/drills is Campus Evacuation and Family Reunification at a Safe Place. We want you to know that, should an event occur that requires complete evacuation of our campus, our Family Reunification Place is the Bartlesville Community Center. We also want you to know that, should an event occur that brings us all to the Community Center, there are specific guidelines that MUST be followed before we can release any child from our off-campus safe place. Patience will be required.
Bartlesville Bruins Team Shop is now open through August 23rd! Get ready for game day at bsnteamsports.com/shop/BVILLEBRUI.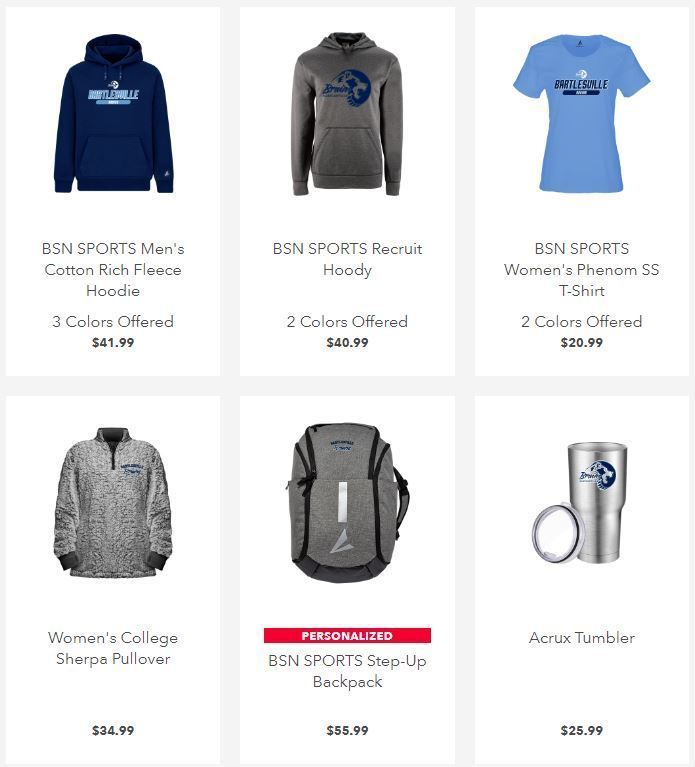 6th grade reminder: Cub Camp for 6th graders is on Aug 3rd 8:30-3:00. We invite guardians to join us in the auditorium from 2:30-3:00. See attached flyer. Central Cub Camp 2022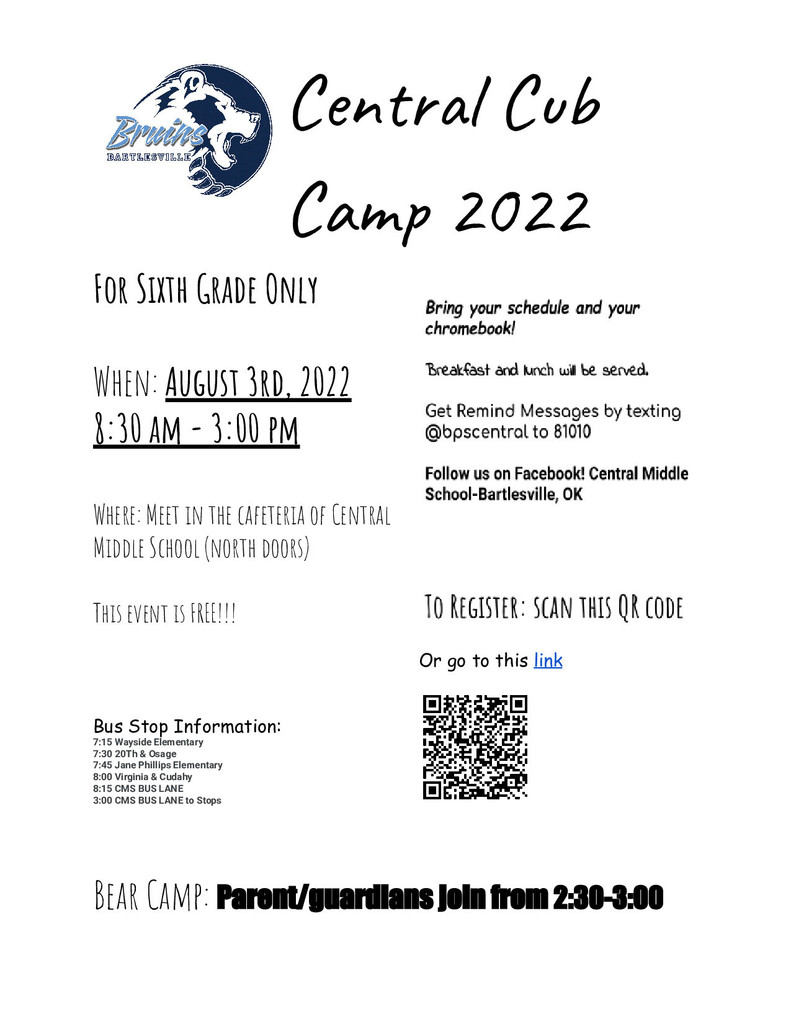 Central Middle School Late Registration 2022-23 For ALL students (new and returning) If you did not attend CMS registration this week, please plan to come to CMS for late registration Monday, August 1st or Tuesday, August 2nd. - August 1 & 2 - 9-11 am & 1-3 pm - CMS main office - 815 SE Delaware - no appointments will be made for late registration, first come - first served ALL parents, new and returning, must set up a PowerSchool Parent Portal where you will get access to registration forms that must be completed before enrollment/registration can be finalized.
https://www.bps-ok.org/page/enrollment
(Incoming 7th grade students must have up-to-date immunizations.)
All State Choir camp 8/06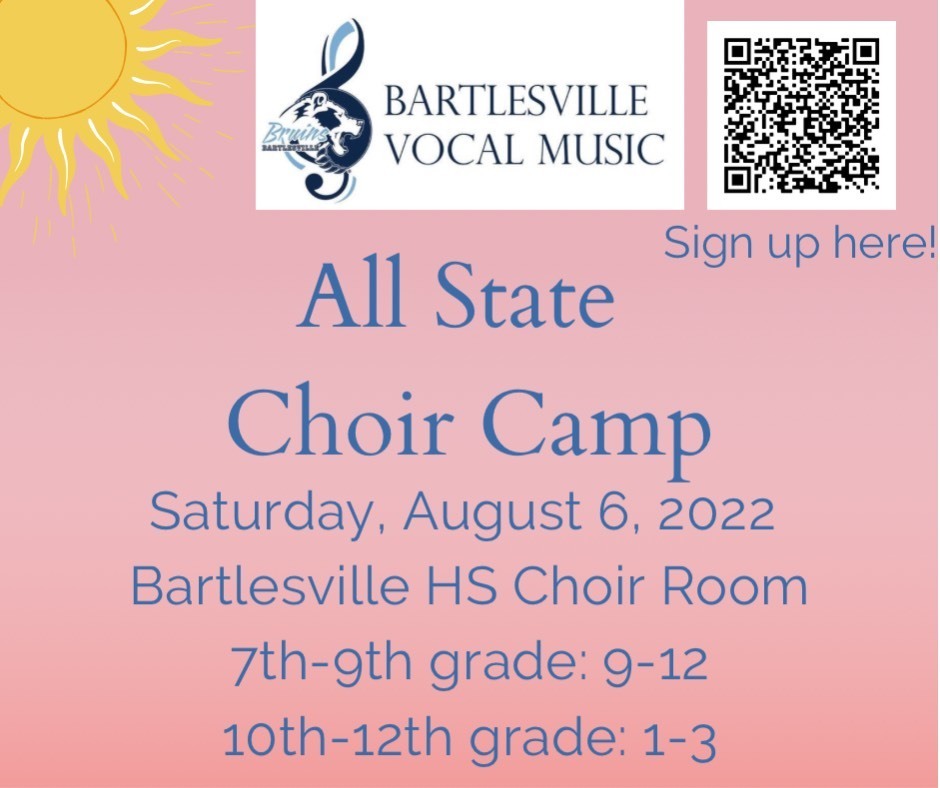 Lady Bruin Basketball Camp - 7/21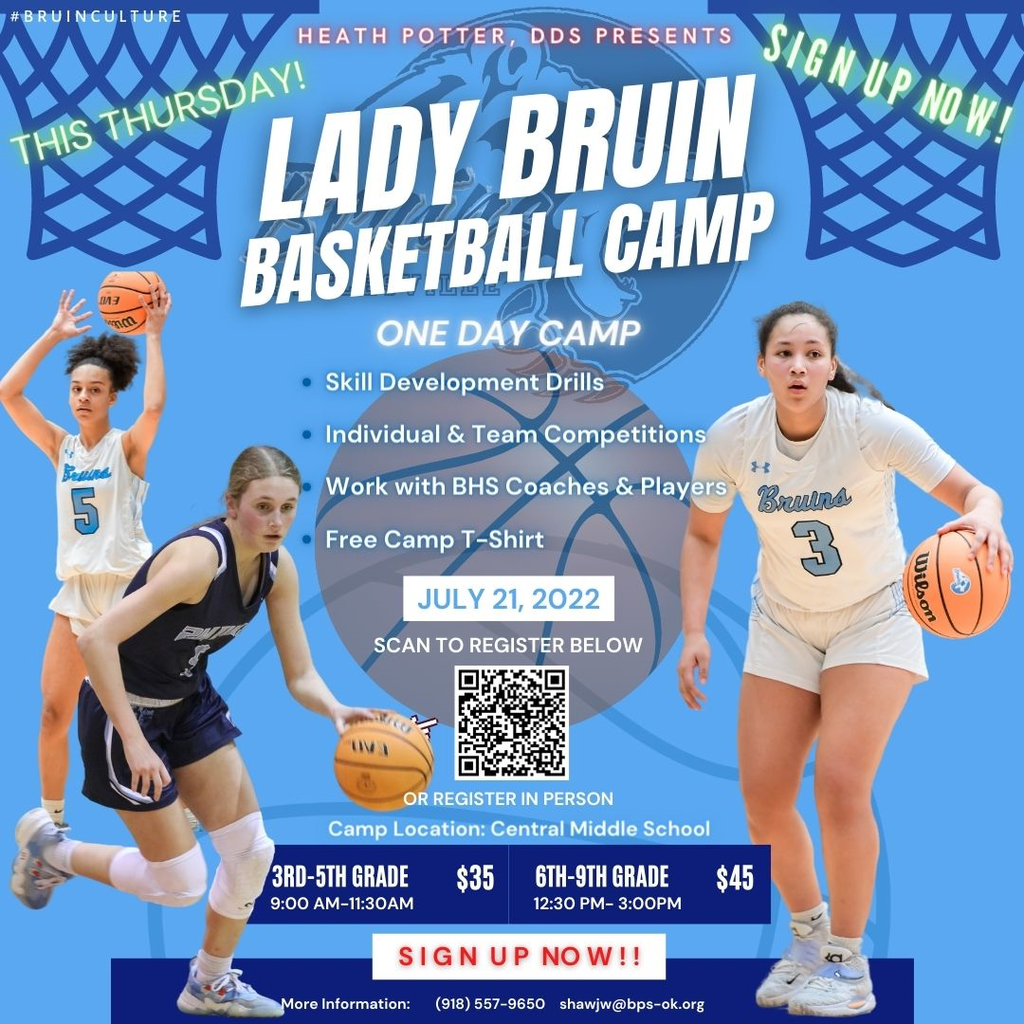 BARTLESVILLE CROSS COUNTY Students entering 6th - 12th grade, we would love for you to be a part of our AWESOME Bartlesville Cross Country and/or Track & Field Teams. Fill out rank one and physical forms -
https://bruinactivities.org/forms
. CROSS COUNTRY -
https://bartlesvillexc.teamapp.com
. Summer Cross Country practices start on Monday, July 18th at 7:00 PM at the BHS Track. Bring water, running shoes and your parents for a meeting and practice. #bruwinxc22 Contact Coach Ayres for more information -
ayresdw@bps-ok.org

Support Staff Job Fair on July 11. Online applications also accepted at applitrack.com/bpsok/onlineapp. #bvillebruwin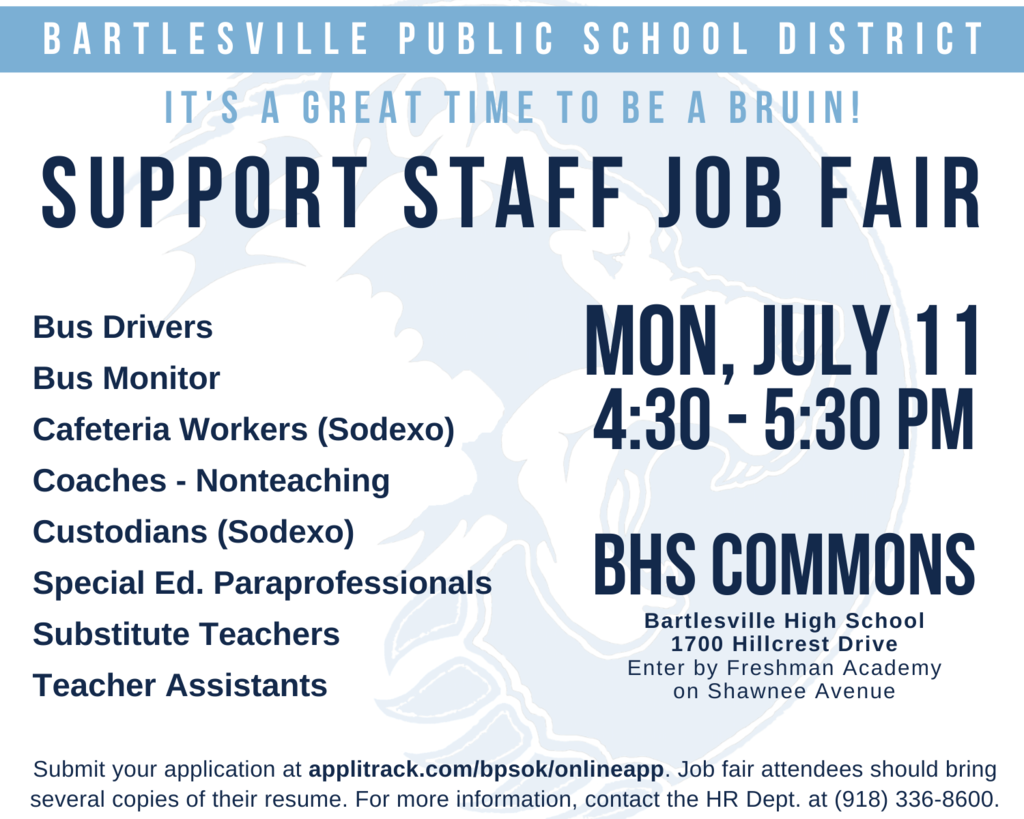 Attention incoming 7th and 8th graders! Central will be offering an Athletic Strength Training elective class during the 2022-23 school year. Please complete this form if you are interested in enrolling:
https://bit.ly/3NPvQfK
#bvillebruwin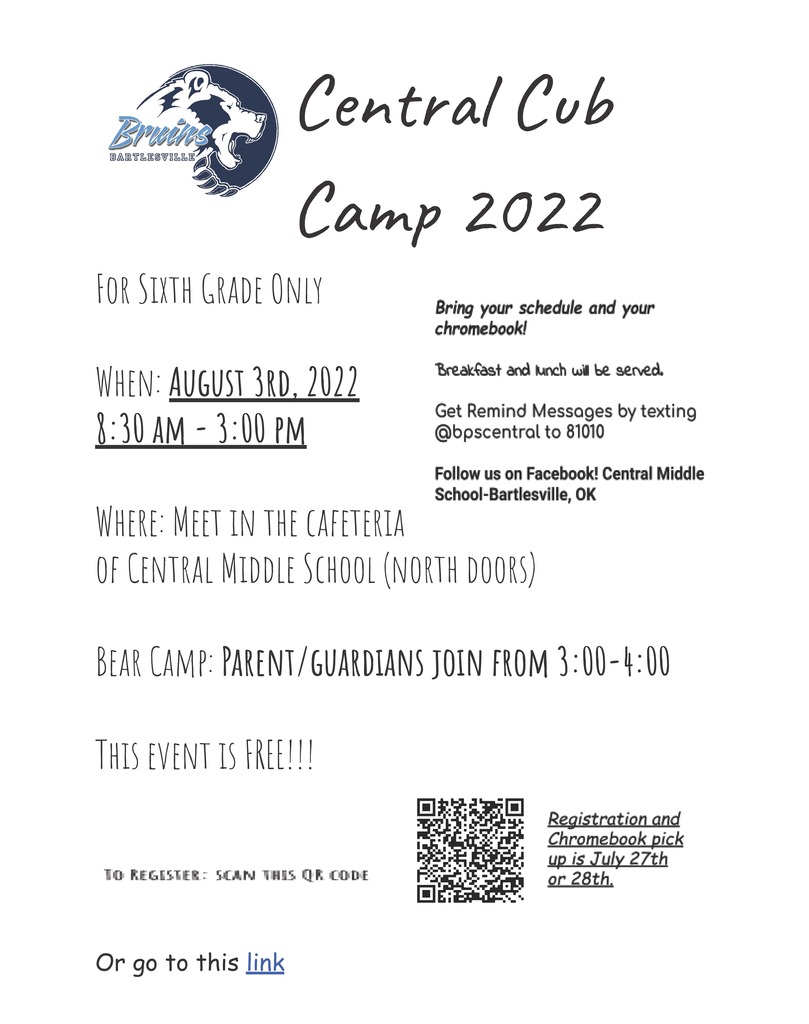 Info for required summer school for middle school students who have failed one or more core subjects because of grades or attendance.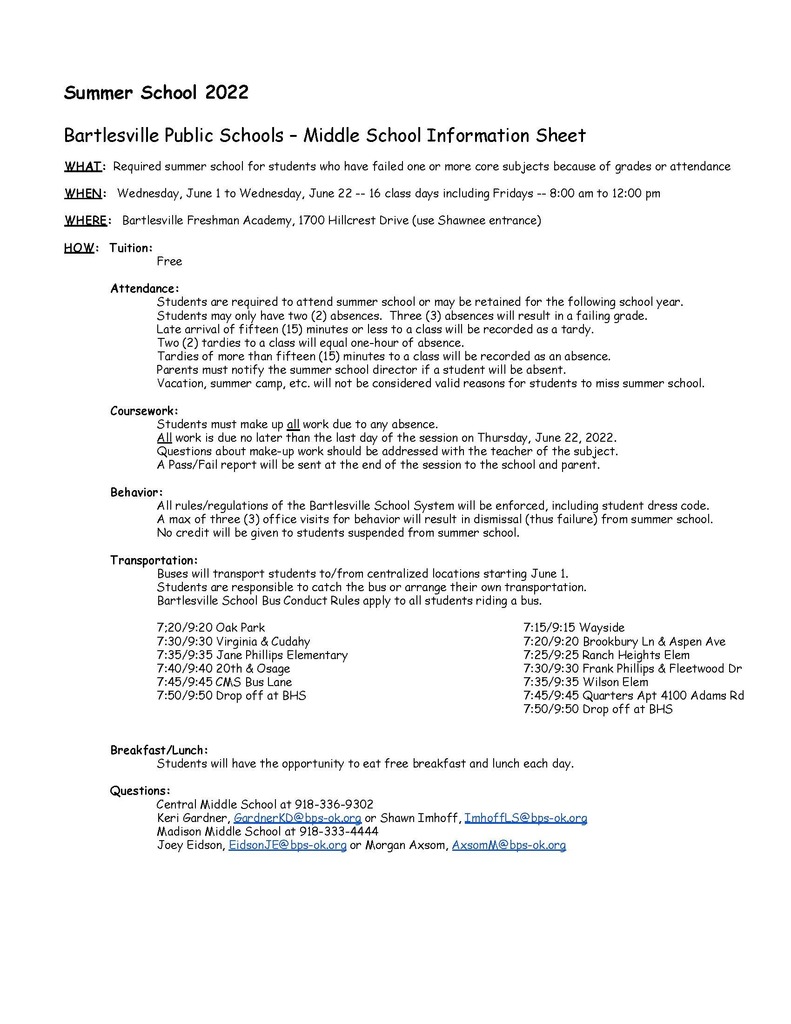 Bruins Volleyball Youth Camp for grades 3-7. #bvillebruwin