See the attached flyer for information on Bruin Basketball Summer Camp for next year's 4th-9th graders.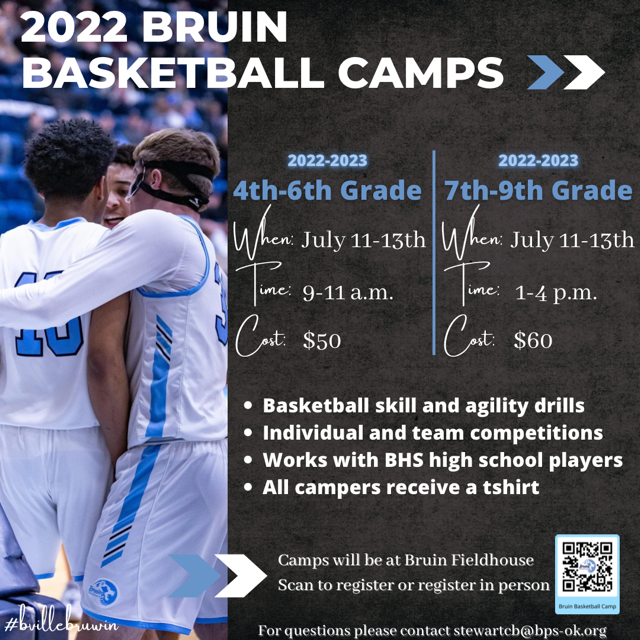 BPS Summer Strength and Conditioning program for all athletes in grades 4-12th. #bvillebruwin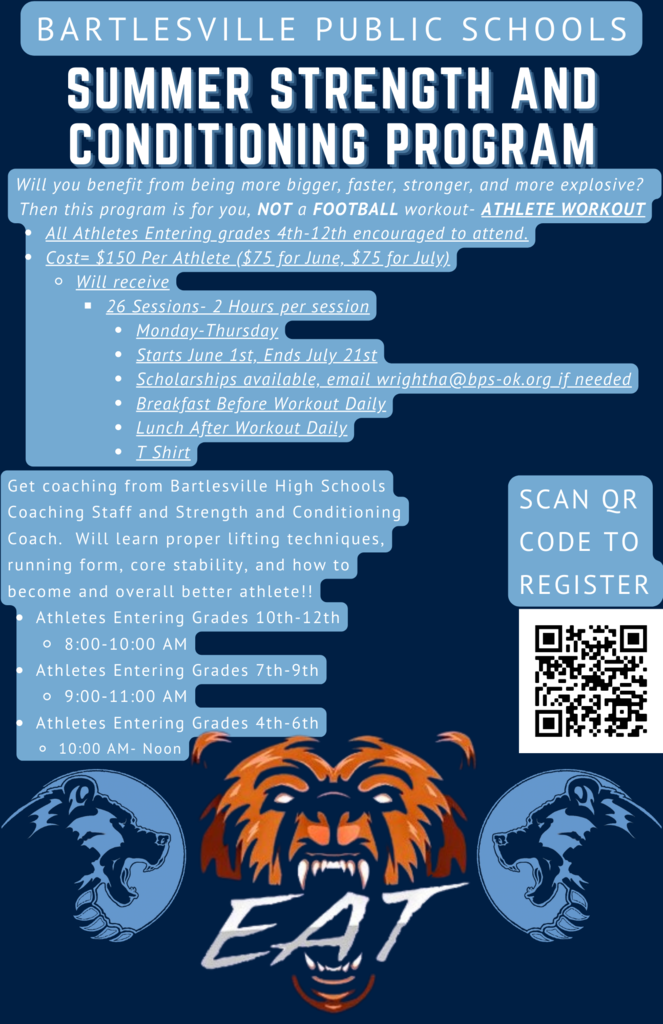 Bartlesville High School Soccer Tryout Reminders For students entering grades 9-12 next year: Boys BHS stadium May 11th from 4:00-5:30 Bring cleats, running shoes, shin guards, and water Girls BHS stadium May12/13 from 3:30-5:00. Bring cleats, shin guards, and water

Please see the attachment for optional Summer Baseball Camp. June 7-9 Open to K-7th grades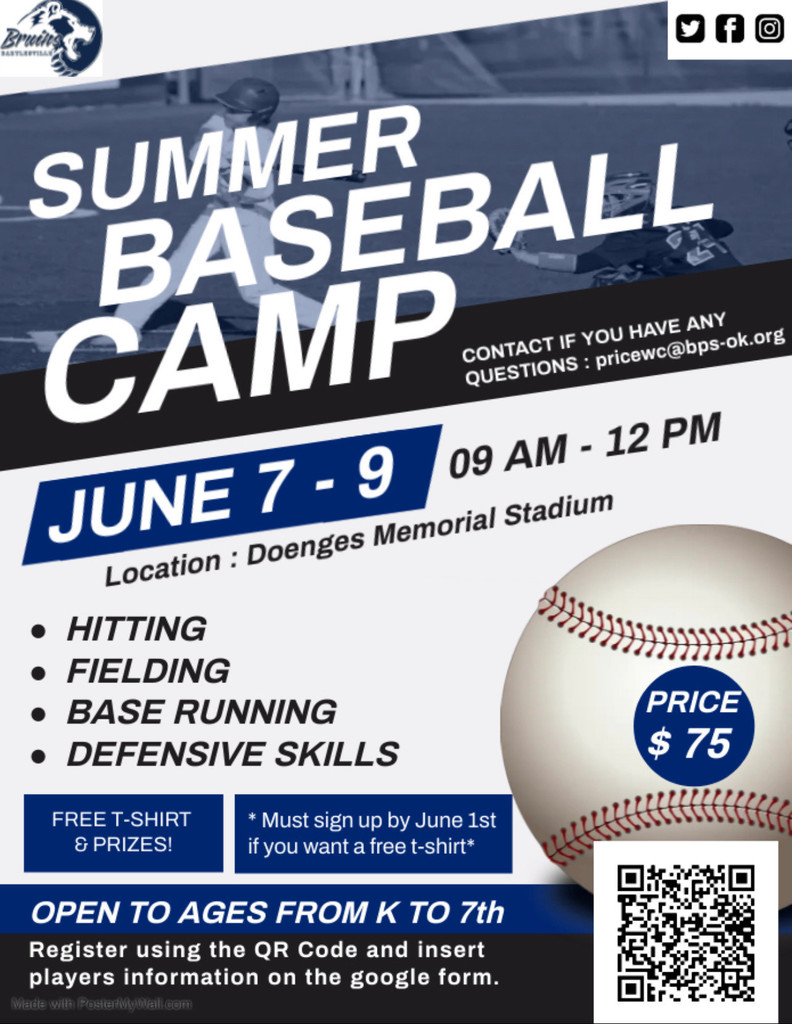 Please see the attachment for information about Bruin Baseball tryouts. Tryouts for current 6th & 7th graders - May 16 Tryouts for students who will be in high school next year - May 18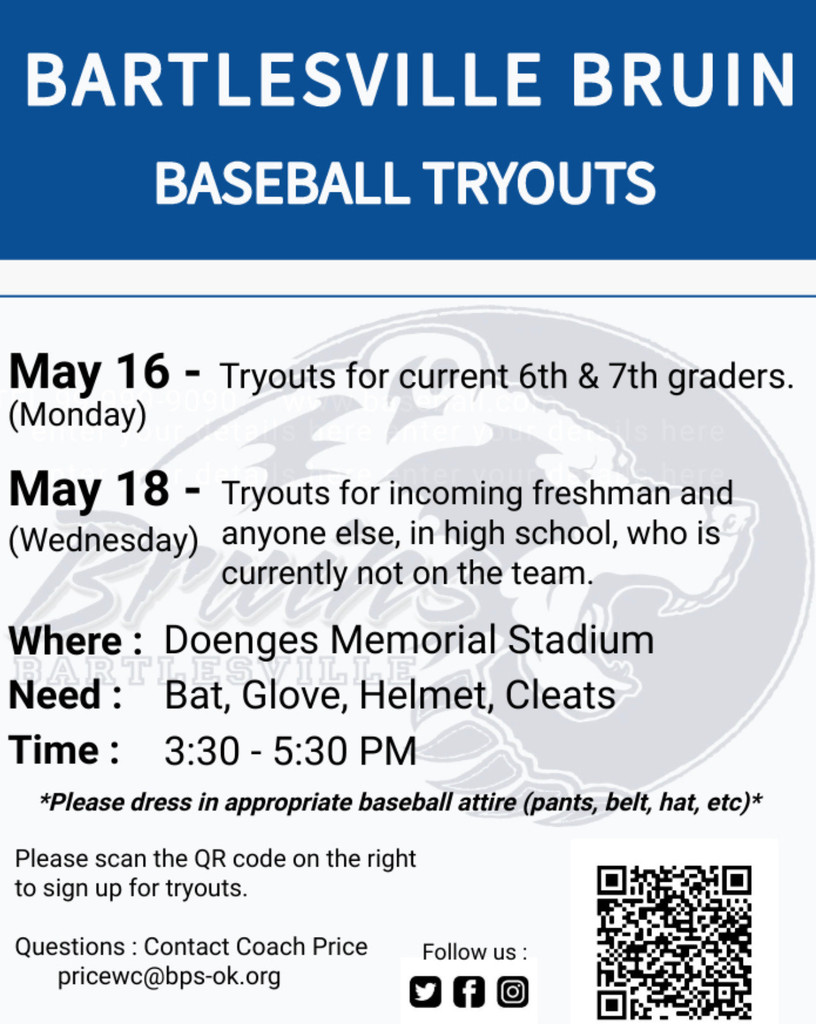 Lady Bruin Basketball tryouts May 10 & 11. #bvillebruwin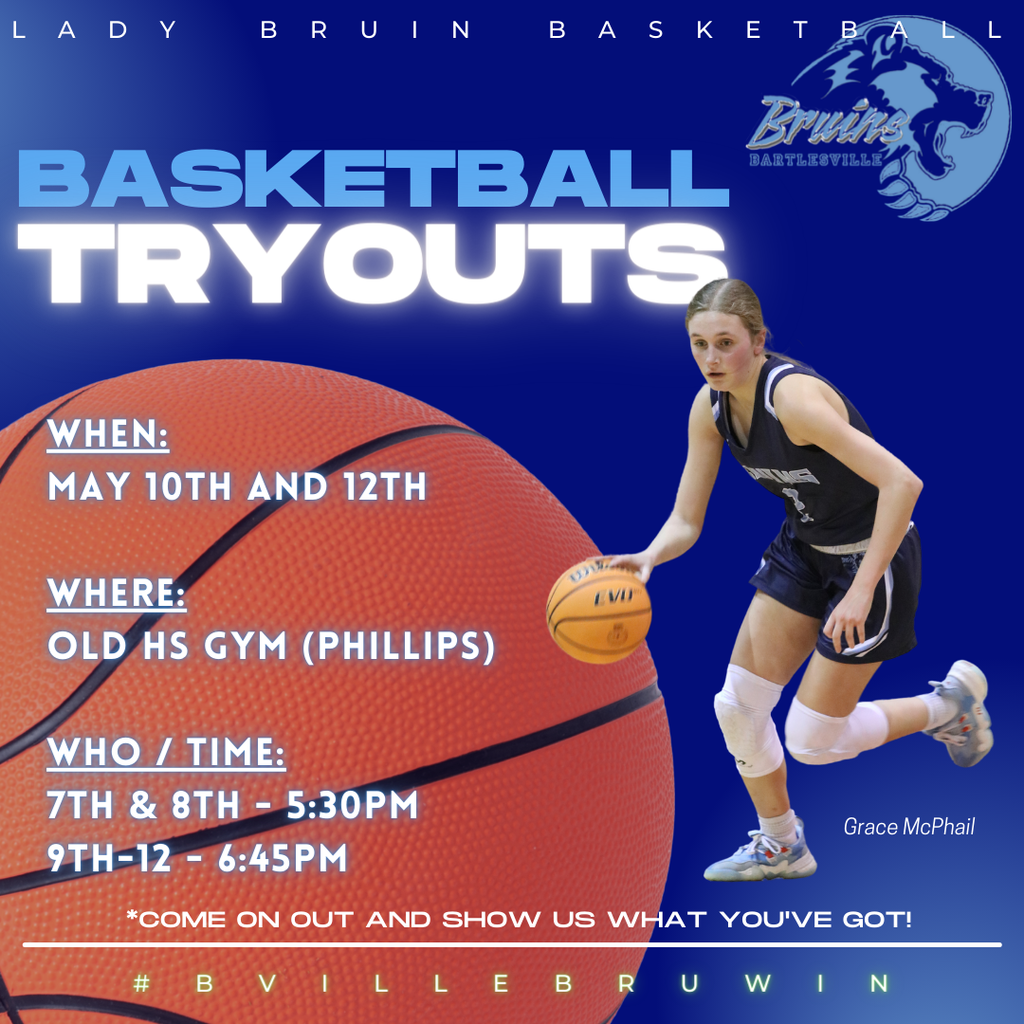 Bruin Basketball Tryouts Date: May 3rd and May 5th Times: 7th grade – 5:30pm; 8th grade – 6:45pm; High School students – 8:00pm Location: Phillips Gym (the grade levels are what the student will be in NEXT year, 2022-2023)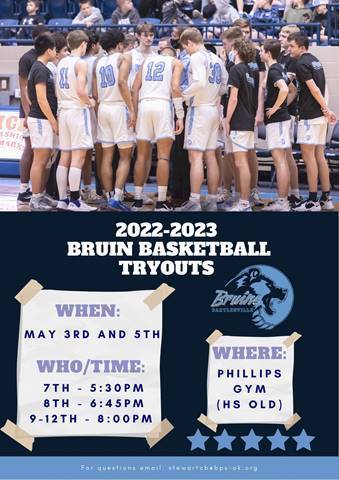 Bruin Volleyball Tryouts May 3-6 Bruin Fieldhouse High School 3:30- 5:30 - Current Grades 8-12 Middle School 5:30-7:30 - Current Grades 6 & 7 ***Current 8th graders will try out for high school. They can take the bus to the high school and their tryout will start as close to 3:30 as possible.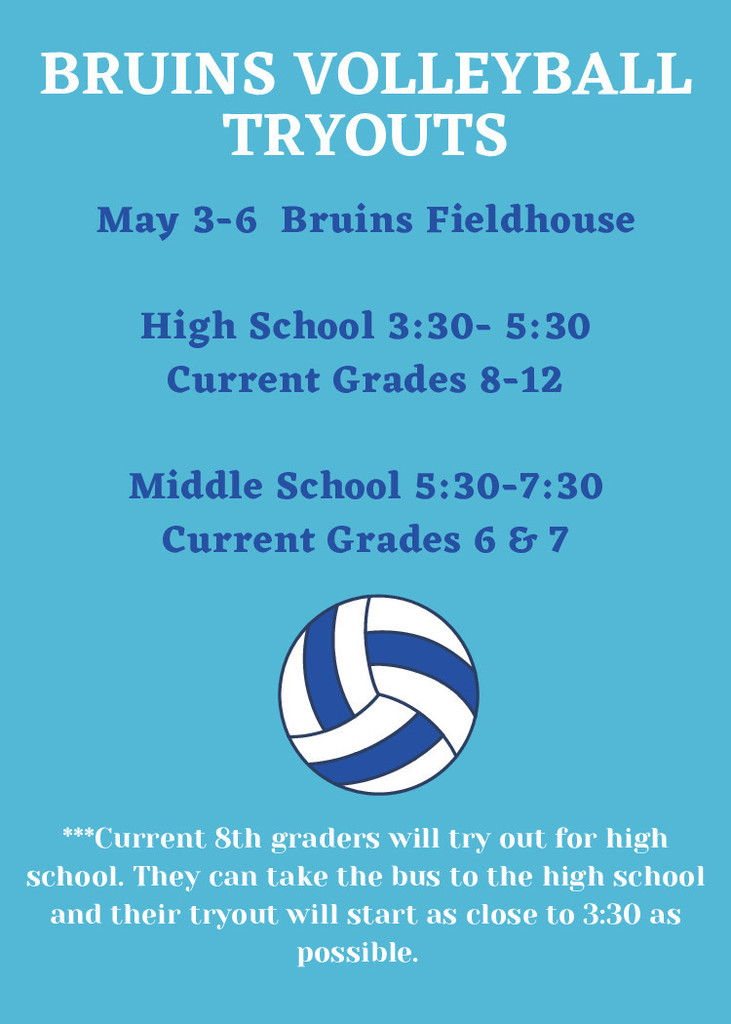 BHS Soccer Tryouts Anyone entering grades 9th-12th interested in trying out for high school soccer next year will need to be at BHS stadium May12/13 from 3:30-5:00. Bring cleats, shin guards, and water.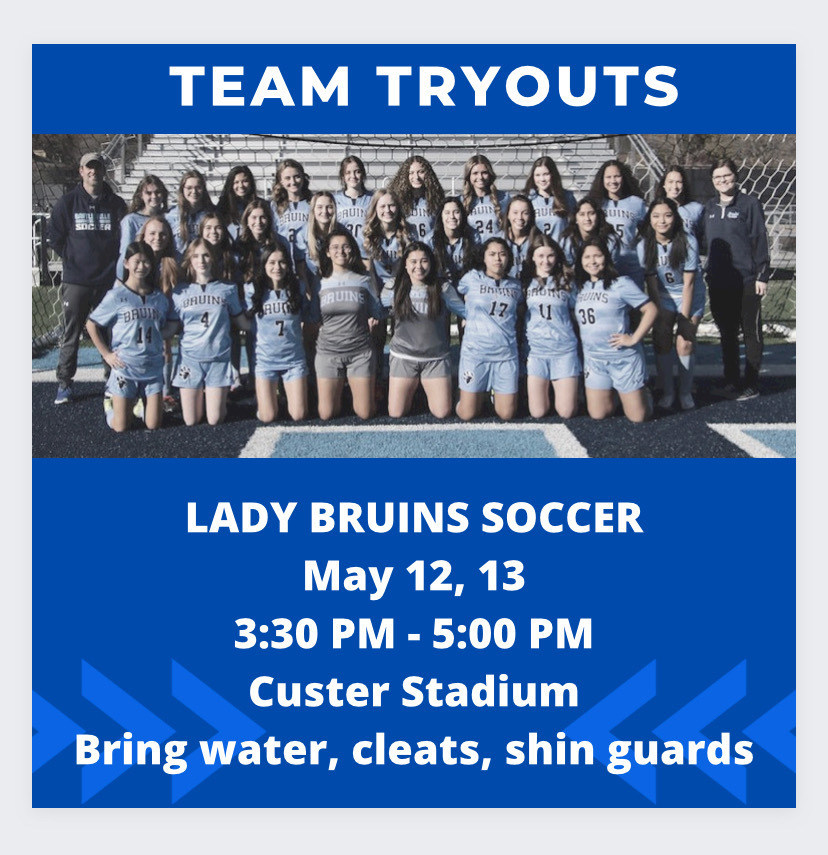 Bruin Basketball Tryouts for 2022-23 on May 3 & 5 at BHS. 7th grade at 5:30, 8th at 6:45, and 9-12th at 8:00 p.m. #bvillebruwin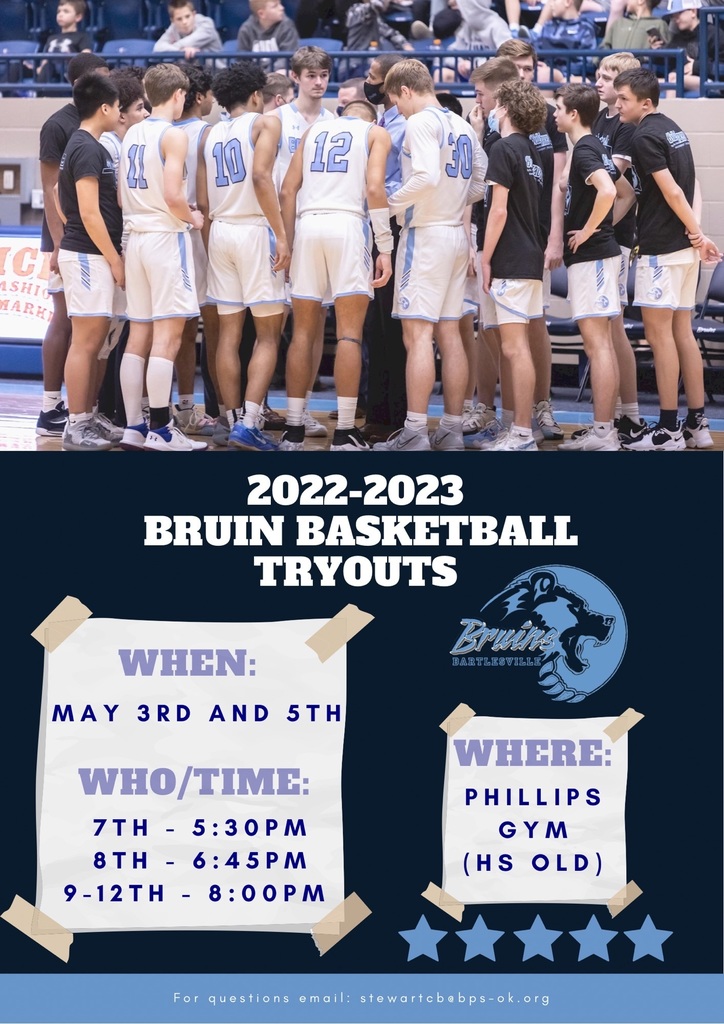 Last day to check out CMS library books = Thursday, April 28 ALL BOOKS DUE - Friday, May 6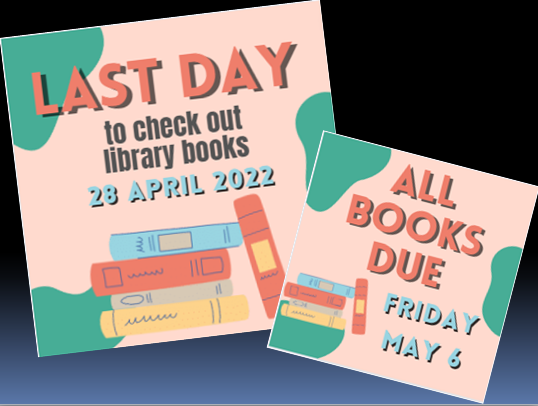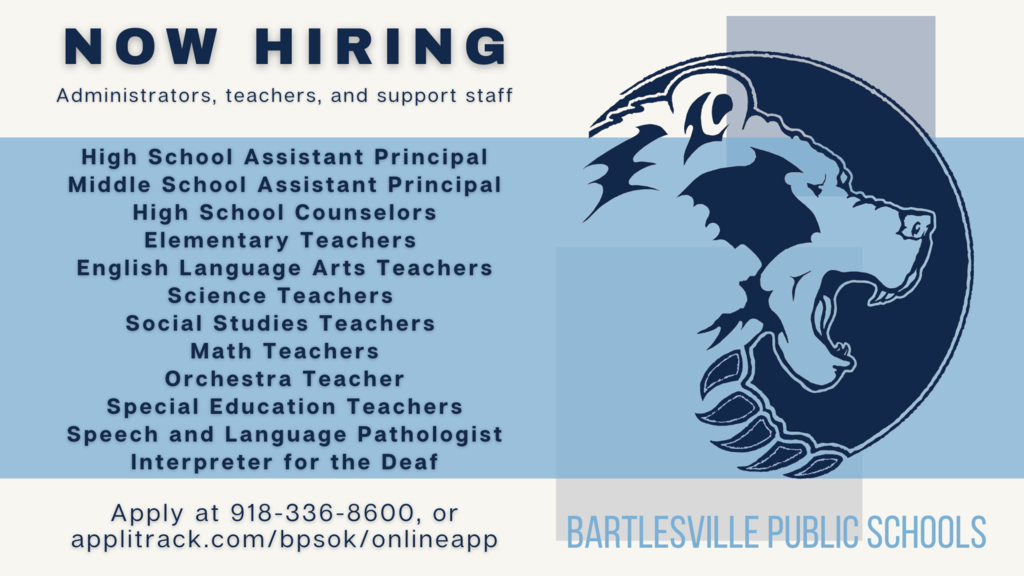 CMS Spring Pictures are next Wednesday, April 13th. Pictures will only be taken for picture buyers. Order forms will be sent home either Friday or Monday. Info attached: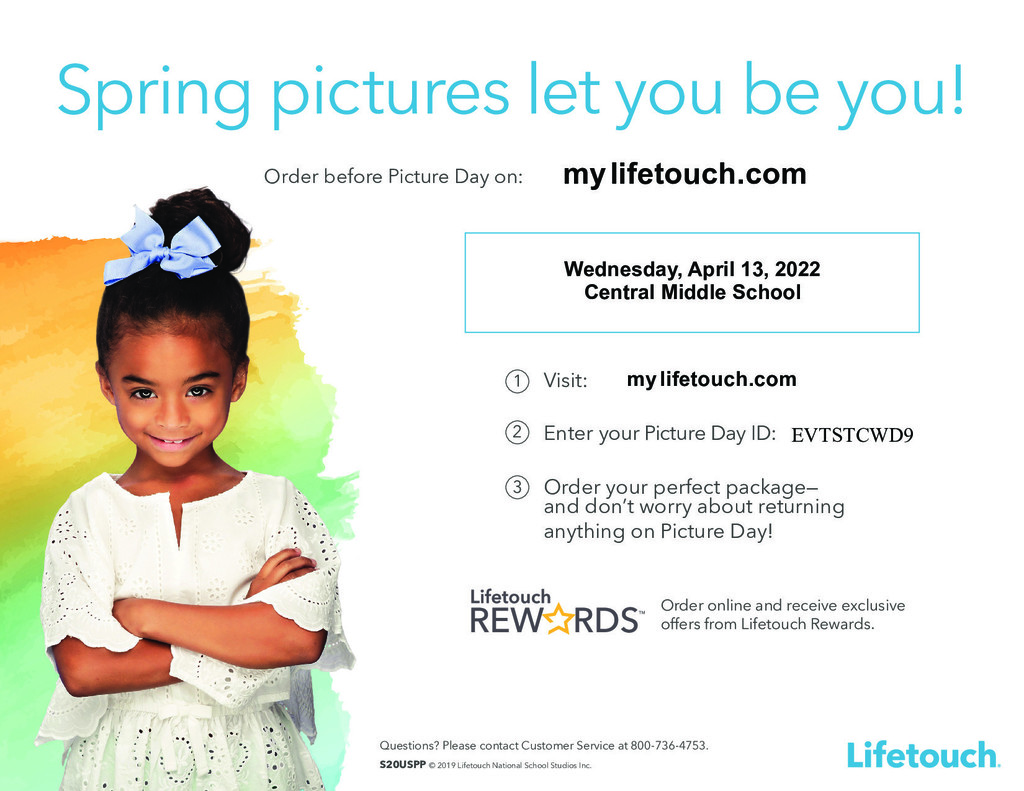 Parents: State testing is coming up! It is very important on testing days that your child eat a good breakfast and get plenty of sleep the night before. Please make sure they are on time to school with a FULLY CHARGED Chromebook. 8th graders will test the mornings Monday-Thursday, April, 25th, 26th, 27th, and 28th. 6th and 7th graders will test the mornings of Tuesday, April 26th and Thursday, April 28th. Virtual students: 6th & 7th grades will test April 21st. 8th grade will test April 21st AND 22nd. Virtual teachers sent information about these testing days. You will find the Parent Guides for 6th, 7th, and 8th grade here:
https://cms.bps-ok.org/o/cms/article/706129

All CMS students will enjoy inspirational guest speaker Alton Carter this Friday. Parents welcome! More information attached.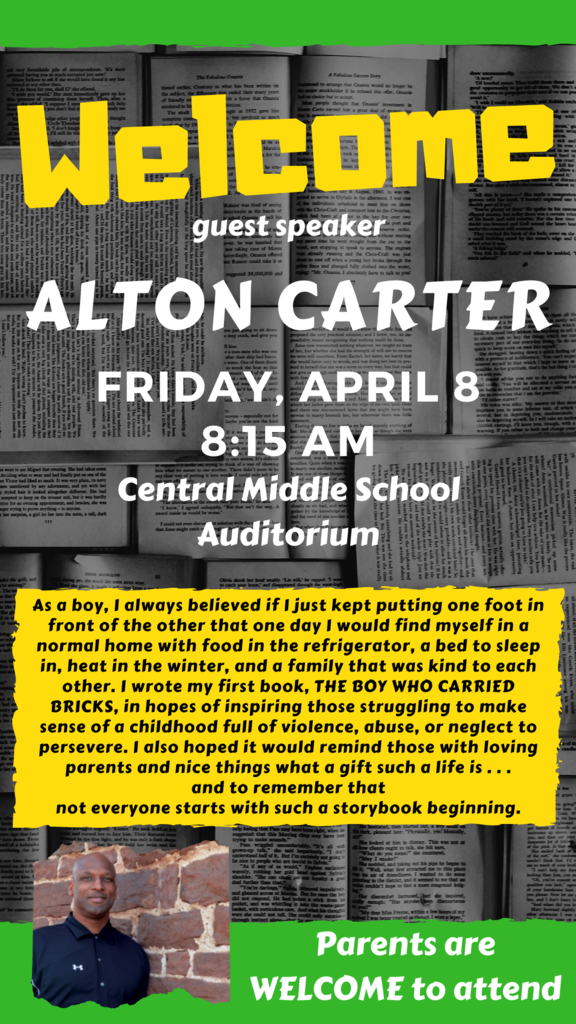 PK-12 Virtual Enrollment for 2022-23 is now open. To learn more, join us Tuesday, April 12 at 6pm in the BHS Commons. #bvillebruwin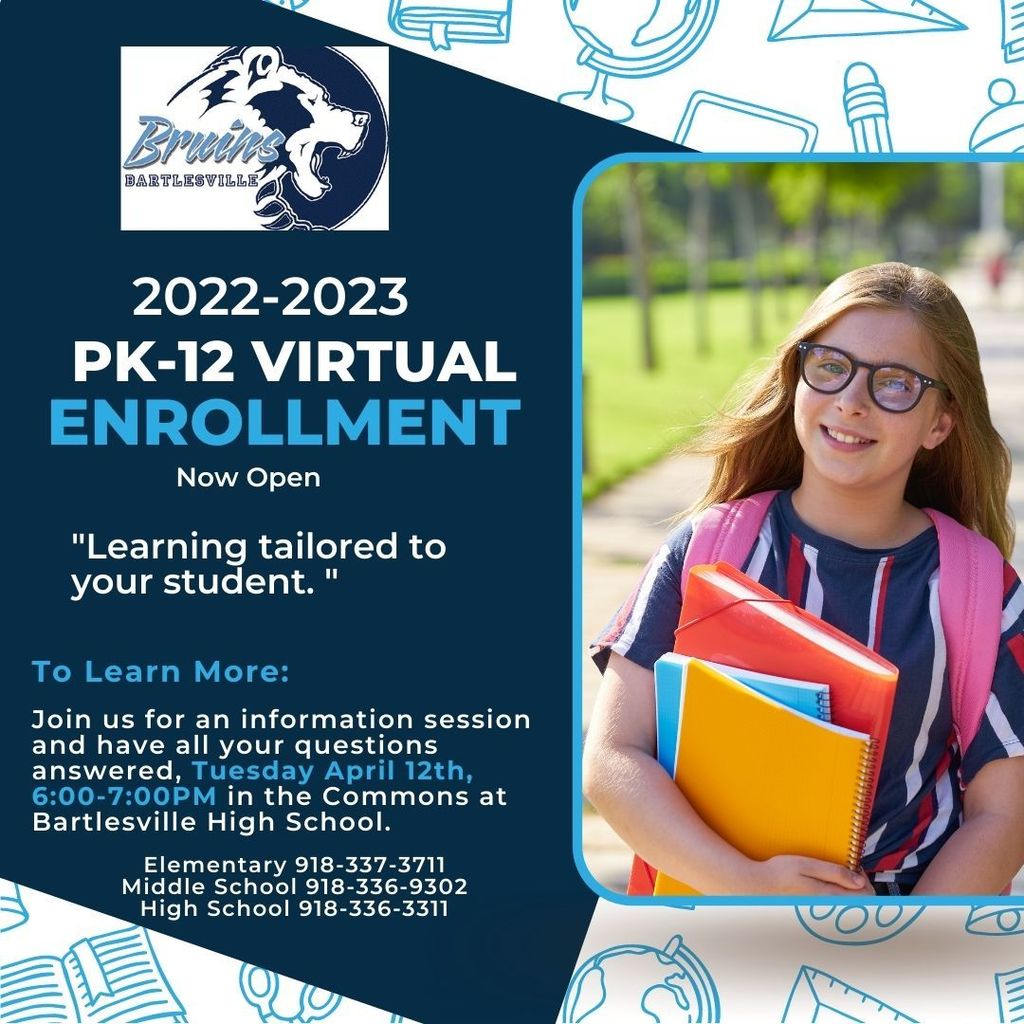 It's that time again: Bruin Color Guard Auditions!! Come learn new dance skills, how to spin a flag and rifle, and make some incredible friends! Auditions will be on April 25, 26, 28, and 29. It is open to all genders going into grades 8th - 12th. No experience is needed, we will teach you everything you need to know, you just need to show up each day ready to learn and work hard! More information and registration at bruinbrigade.org!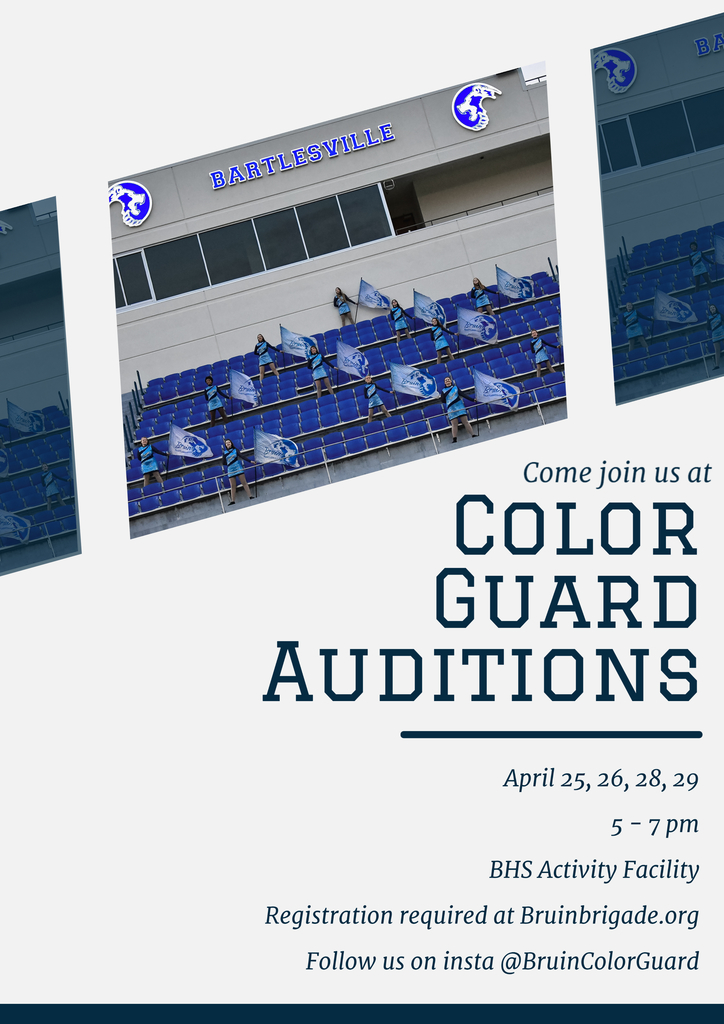 Current 6th & 7th grade parents: 2022-2023 Student Course Selection sheets need to be turned in by Wednesday, March 30th. Please make sure these are complete & signed by a guardian/parent.

CMS Spring BOOK FAIR! April 1-8 Class Visits: Mon, Apr 4 - C. Lazo, Mattke, Pressler Tue, Apr 5 - Waldorf, Jarmola, Holleman Wed, Apr 6 - Hemminger, H. Davis, Grissom Use this site to shop online or create an student eWallet for cashless, in-person shopping:
https://www.scholastic.com/bf/centralmiddleschool21