PK-12 Virtual Enrollment for 2022-23 is now open. To learn more, join us Tuesday, April 12 at 6pm in the BHS Commons. #bvillebruwin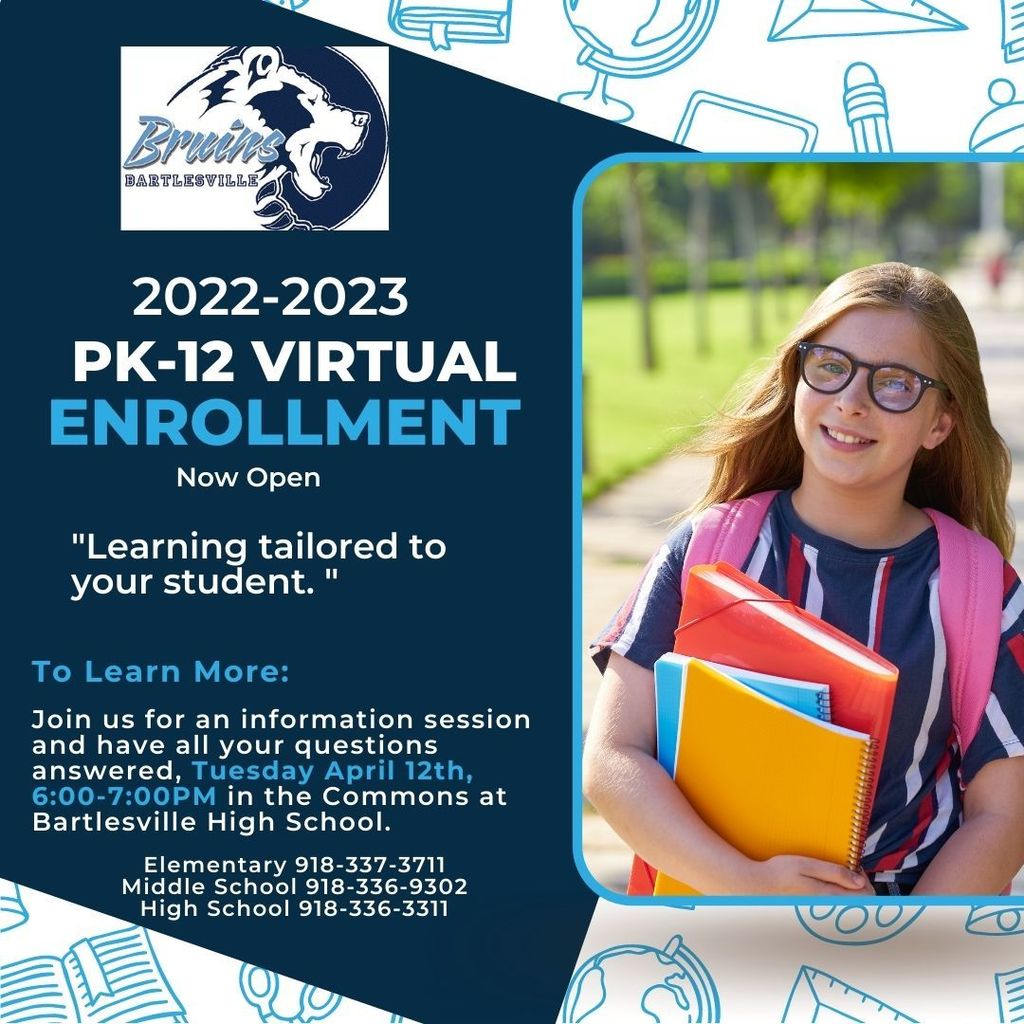 It's that time again: Bruin Color Guard Auditions!! Come learn new dance skills, how to spin a flag and rifle, and make some incredible friends! Auditions will be on April 25, 26, 28, and 29. It is open to all genders going into grades 8th - 12th. No experience is needed, we will teach you everything you need to know, you just need to show up each day ready to learn and work hard! More information and registration at bruinbrigade.org!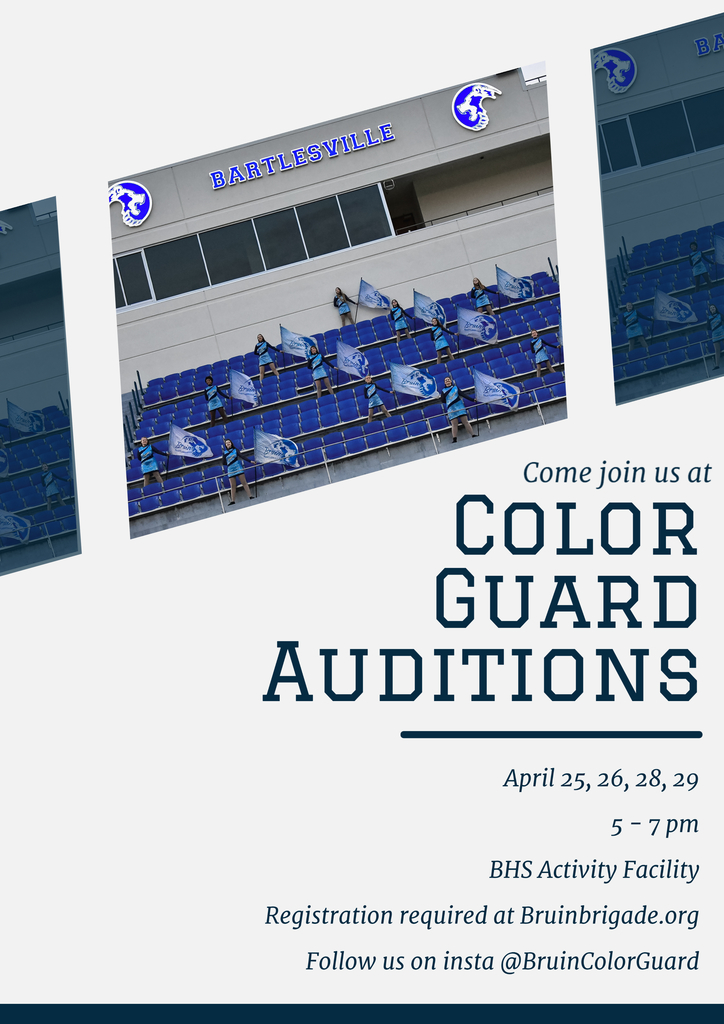 Current 6th & 7th grade parents: 2022-2023 Student Course Selection sheets need to be turned in by Wednesday, March 30th. Please make sure these are complete & signed by a guardian/parent.

CMS Spring BOOK FAIR! April 1-8 Class Visits: Mon, Apr 4 - C. Lazo, Mattke, Pressler Tue, Apr 5 - Waldorf, Jarmola, Holleman Wed, Apr 6 - Hemminger, H. Davis, Grissom Use this site to shop online or create an student eWallet for cashless, in-person shopping:
https://www.scholastic.com/bf/centralmiddleschool21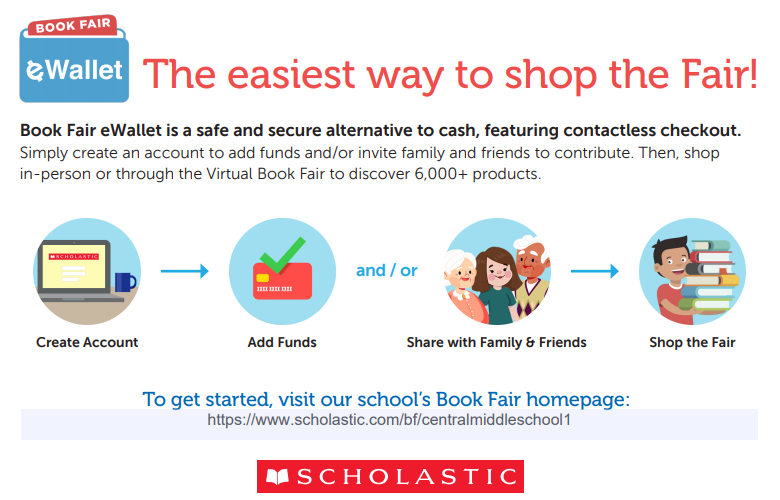 ☀️ 𝐒𝐓𝐄𝐀𝐌 𝐒𝐮𝐦𝐦𝐞𝐫 𝐂𝐚𝐦𝐩 𝐢𝐬 𝐁𝐚𝐜𝐤! ☀️ Join TriCounty Tech this summer for fun-filled, week-long day camps for students currently enrolled in 𝐠𝐫𝐚𝐝𝐞𝐬 𝟑-𝟗. Lunch, morning & afternoon snacks, & a t-shirt will be provided! Campers can choose from these camp themes: 🎨 Art Workshop 👩‍🍳 Chef Academy ✈️ Drones & Aviation ⚙️ Engineering Quest 💡 Fab Lab 🎬 Film Festival *!* Grossology 🤖 Robotics 𝐑𝐞𝐠𝐢𝐬𝐭𝐞𝐫 𝐛𝐞𝐟𝐨𝐫𝐞 𝐀𝐩𝐫𝐢𝐥 𝟏𝟎 𝐭𝐨 𝐠𝐞𝐭 $𝟓𝟎 𝐨𝐟𝐟! TriCountyTech.edu/SummerCamp

Interested in color guard? Want to see what color guard is? Showcase - April 1st - 7 pm - HS Fieldhouse See solo, ensemble, and team performances Color guard auditions - last week of April. For more info, email
grissomr@bps-ok.org
or follow @BruinColorGuard on Instagram

2022-2023 7th & 8th grade enrollment (current CMS 6th and 7th graders) March 24th & 25th Counselors will meet with students during the day. All enrollment information will be sent home with each student. Please look over & return signed course selection sheets next week.

The Bartlesville High School pom program will be holding tryouts on May 2nd and 4th from 6-8 pm. Open clinics are available in early April, and a mandatory candidate and parent meeting will be on Monday, April 18th at 7:00 pm in the FAC Hospitality Room. Open to incoming freshmen through seniors. See attached flyer for more information.

Girls Golf will begin THIS MONDAY FEB 21st at 3:00 @ Adams Golf Club

6-8 graders can participate in Junior High Track. Everyday from 3:30-5pm at the High School. Students will ride Bus #10 from Central and Bus #3 from Madison. Must have a current physical and Rank One forms. Parents can go to bruinactivities.org, click on parent info, then forms then Rank One. Parent meeting Monday February 21st that will be sent out via Spond. Spond is the communication app used for the track team. Parents/Athletes - get the app and put in the code to join. Code: HJFBC If you don't already have Spond:
https://group.spond.com/HJFBC

Cheerleading Open Clinics to prepare those interested in tryout for next season's Cheer Squads Mondays in Feb.(7, 14th, 28th) High School Cheer Gym Grades: 8th-11th: 3:45-5pm 5th-7th: 5-6pm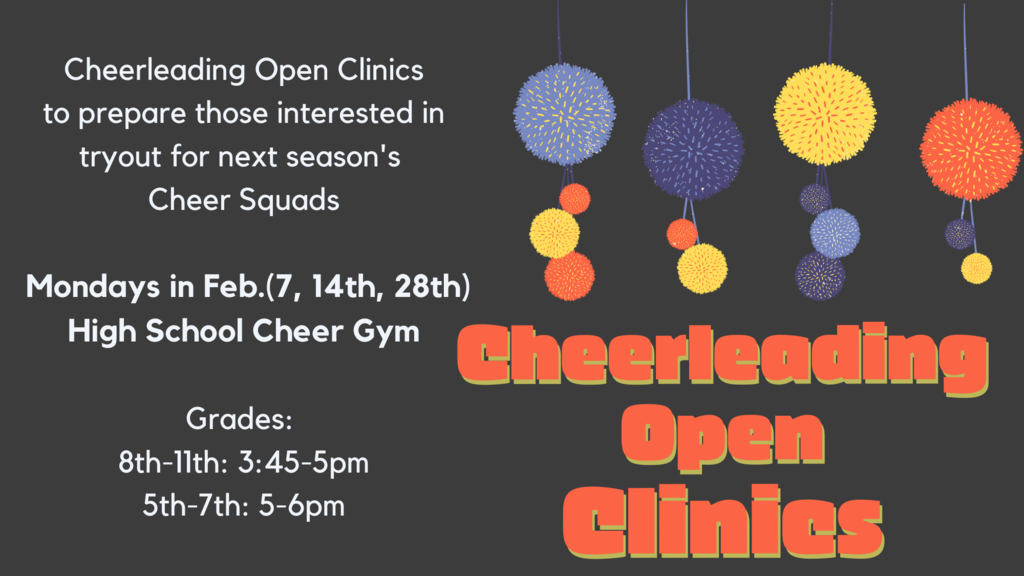 8th Grade Parents! Don't forget about the Pre-Enrollment Parent Night at the high school. February 1, 2022 - evening begins at 5:30 pm in the High School Commons. More information here:
https://bhs.bps-ok.org/o/bhs/article/639483

Current 8th Graders! High School Parent Information Meeting February 1, 2022 The evening begins at 5:30 pm in the High School Commons. More information in the attached flyer.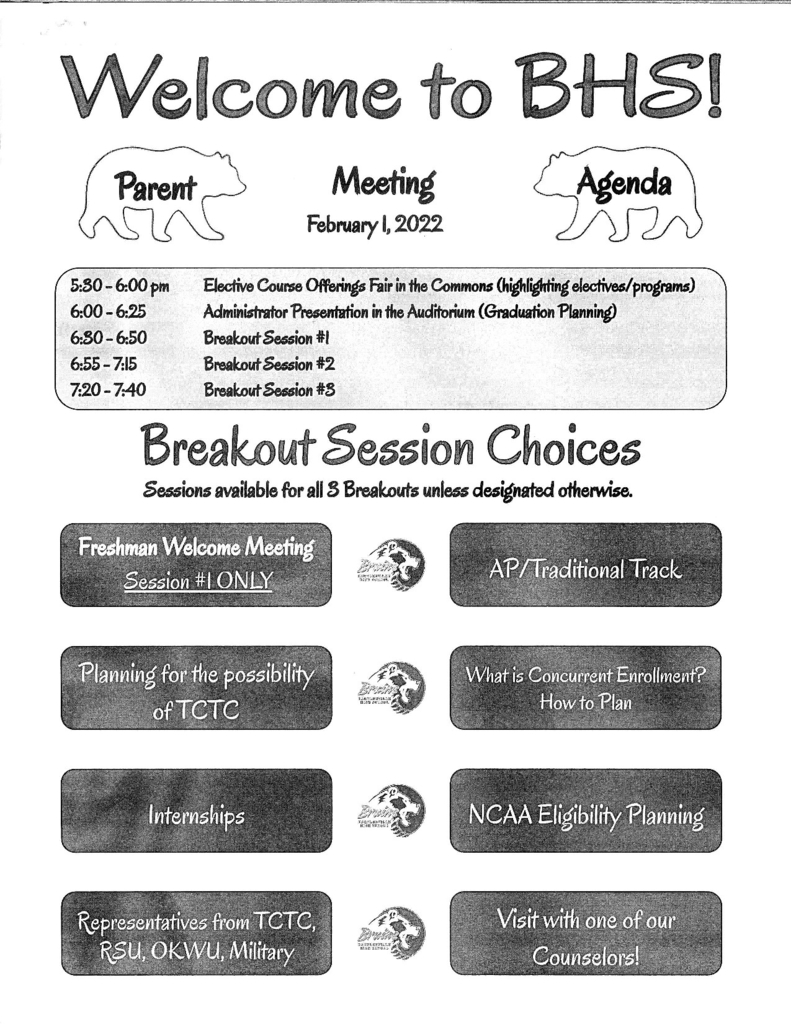 Bruin Football! See the attached flyer for meeting info for current and prospective Bruin Football Players!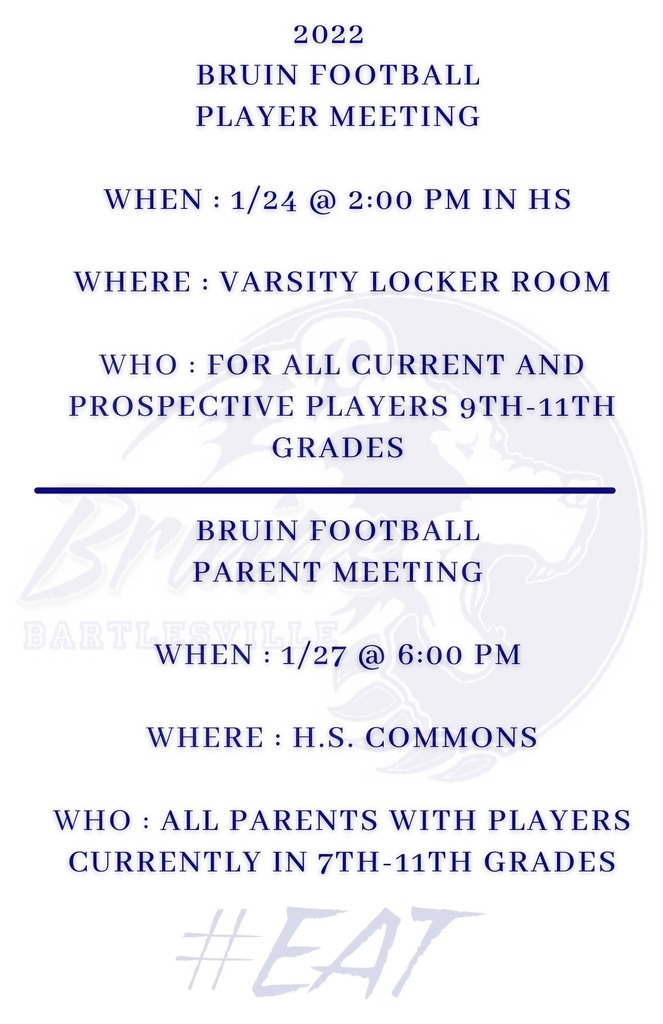 Due to distance learning this week, Honor Society applications will not be due until Friday, January 28. they can be picked up next week from the library, main office, counselors or room 305.

Attached, please find the class schedule for CMS virtual days. Students are expected to submit any assignments and may contact their teachers during the hours attached. Please do not hesitate to reach out to teachers or administration with any questions.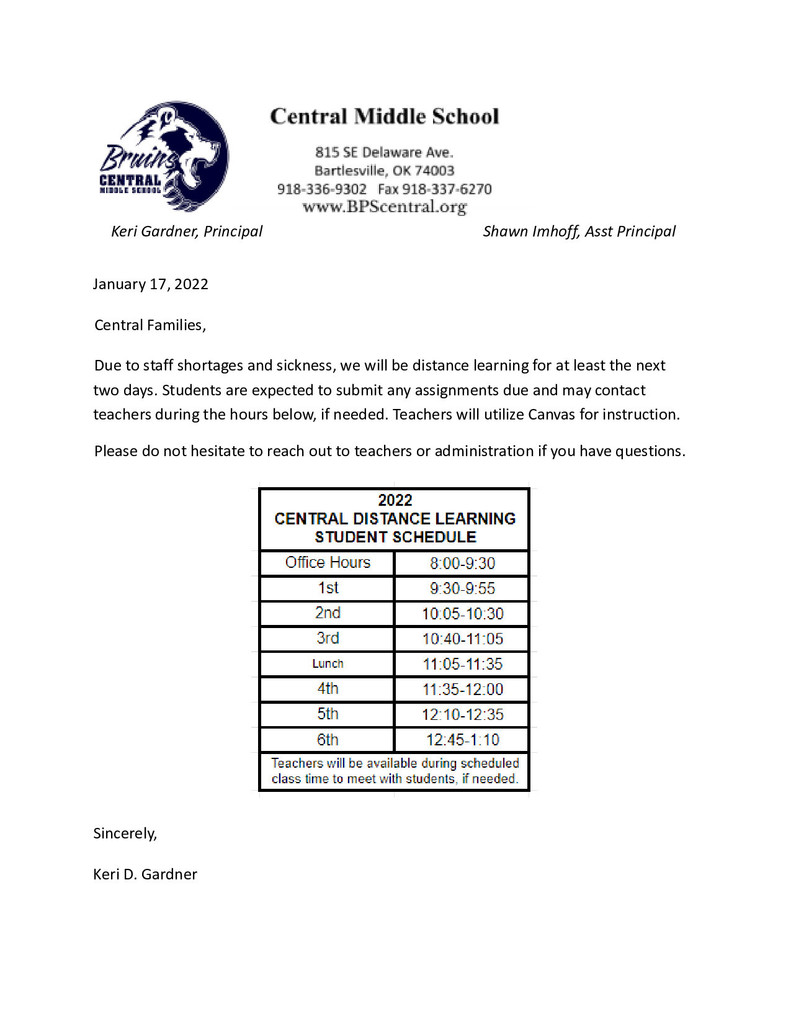 It's definitely been a year to remember: Order your CMS Yearbook before we run out! $40 - cash or check made out to "CMS" to Ms. Jarmola in room 210 OR order online at Jostensyearbooks.com

Central Honor Society applications are now available. Applications are due by 3:00 p.m. on Friday, January 21. They must be filled out by the student. Applications are available in room 305, the main office, the library or outside of the counselor's office. Please see Mrs. Davis (room 305) if you have questions. LATE APPLICATIONS WILL NOT BE ACCEPTED!
With cold weather upon us, it's a good time to remind you that the district sends emergency calls and text messages, including school closing notices, to parents/guardians via School Messenger. To opt in, text "subscribe" to 68453. (Text "stop" to 68453 to cancel.) #bvillebruwin
Support Staff Job Fair on January 18. #bvillebruwin Online applications also accepted at applitrack.com/bpsok/onlineapp.